SANTORINI
LOCAL PRODUCTS
A Greek Islands Destination Cooking Class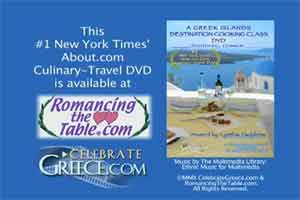 Travel to Greece and experience a wonderful Greek Islands Gourmet Cooking Class in the village of Thera on the island of Santorini . Follow our award-winning host and author, CYNTHIA DADDONA as she and the professionals at our featured gourmet restaurant prepare a special multi-course gourmet dinner. Enjoy your Destination Cooking Class which includes everything from harvesting the herbs, learning the history of the foods and wines, preparing the courses and, finally, dining while enjoying the spectacular island views from the restaurant outdoor terrace. Only the DVD includes Greek gourmet Bonus Features on Wine, Cheeses, Cookies & Breads, Meats, Agricultural Products and Herbs. Also, enjoy visiting this beautiful Greek Island archaeological sites-to-see, the things-to-do, the culture and the warm people of the Mediterranean.
Videos
+ A Greek Islands Destination Cooking Class

Please share your opinion of it with other travelers. Write a review!