SANTORINI
SANTORINI EVENTS
International Music Festival of Santorini > Athena Kapodistria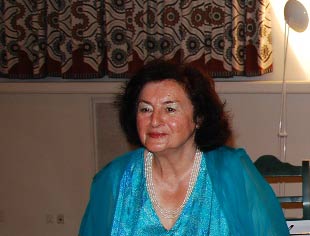 Title : Founder and Artistic Director
Message : Founder and Artistic Director of the International Music Festival of Santorini and Chairman of the Cultural Association The Friends of Santorini was born in Athens. She is a graduate of the Conservatoire Supérieure de Musique de Genève (Prof. Louis Hiltbrand).

Later, studies continued in Switzerland with Harry Datyner and in Bucharest with Hilda Jerea. As a recipient of scholarships from the Italian and Spanish governments, she attended the Summer Academies in Venice with Gino Gorini, and in Santiago de Compostela with Rosa Sabater and Alicia de Larrocha. Special study in the field of chamber music took place with Enrico Mainardi, and in Lieder accompaniment with Herman Reutter in Salzburg.

In Greece she has worked for a long period with Rena Kyriakou. She has appeared in solo recital as well as in chamber music concerts in partnership with a variety of noted performers and acclaimed ensembles, throughout Greece, Spain, Sweden, Romania as well as in Italy, ex Yugoslavia (Belgrade Summer Festival), with direct broadcast by Serbian T.V., in Germany (Piano Festival – Meissen), and at the "Armonie della sera" chamber music festival in Italy, broadcast by Radio Vaticana.

She has also appeared as soloist with orchestras such as the Hellenic Radio and Television Orchestra, the Moldava Philharmonic Orchestra of Romania, the Athens Chamber Orchestra, the City of Thessaloniki Chamber Orchestra, the Camerata Orchestra of the Athens Megaron, the Vienna Concert-Verein Orchestra etc., under Ion Baciu, Alex. Symeonidis, Byron Colassis, Karl Trikolidis, Kosmas Galileas and George Tsontakis. She has made television appearances and numerous radio recordings for the Greek, Romanian, former Yugoslavian, Hungarian and Spanish national networks.

For her contribution to Spanish music, the Catalan Union of Madrid honoured her in 1982 with its Gold Medal, and in 2004 the Mayor of Thera with a Special Award for her 25 years contribution to the artistic movement of the island. In July 2010 she was honoured by the association "Marche Musica" in Italy with the Internarional Award "Una vita per la musica" (A life for music).

From 1975 to 1977 Athena Capodistria has been teaching piano at the Athenaeum Conservatoire, and from 1977 to 1996 at the Athens Conservatoire.