SANTORINI
SANTORINI ART SHOPS
OPERA ART GALLERY > Mariusz Stokowiec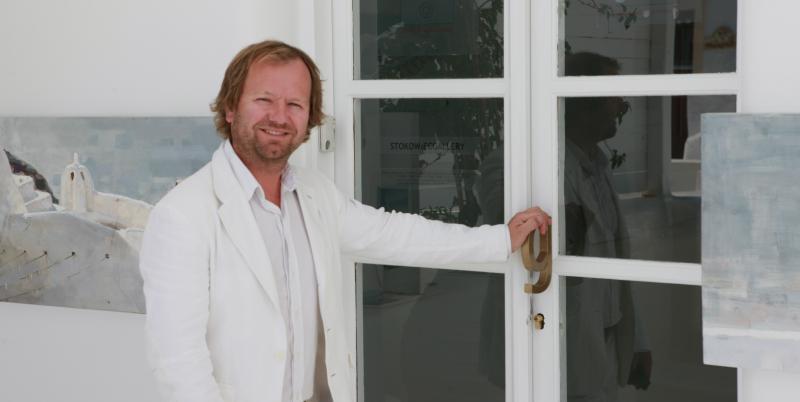 Title : Owner, founder
Message : Mariusz Stokowiec was born in Luban Slaski (Poland) in 1971. He arrived in Greece in 1988 and choose the island of Santorini - where he has been based ever since - for its stunning beauty and volcanic energy. His inclination towards art and architecture found an outlet in building and decorating, particularly in making furniture and remodeling interiors in the traditional Cycladic style. His paintings and famous volcanic sand sculptures have been sold all over the world since 1992.

- In 2002 he designed the open air cinema of Fira, a beautiful yet functional building in the outskirts of Fira town.
- From 1993 until 1997 he studied art next to the famous polish painter, Magdalena Abakanowicz.

His first gallery, "Opera Art Gallery", in Oia-Ia opened in 2003, to house his own work and present selected artists, and has since attracted art lovers from all over the world.

Today he opened his second gallery, "M Gallery" in the capital of the island, Fira, where his paintings meet famous works of art from different artists, such as, Philolaos, Costa Coulentianos, Christos Karas, Giorgos Lambrou, Vincent Batbedat, Eric Claus, Valentina Zeile, Fhilippe Desloutieres, Stephane Kilar and Fanny Ferre.