SANTORINI
SANTORINI
Santorini facts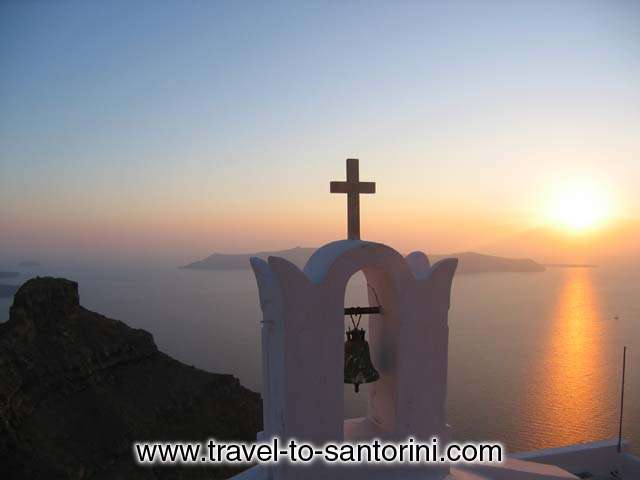 Santorini is the southernmost island of Cyclades and is located between Ios and Anafi.
It is 128 nautical miles away from the port of Piraeus and 63 nautical miles away from Crete.
Its size is 76 square km and the length of its shores is 69 km. The perimeter is approximately 36 nautical miles.
Thera, Therassia, Aspronisi and the volcanoes (Palia Kameni and Nea Kameni where the crater of the volcano exists) form the cluster of islands which is called Santorini.
It is included, together with Methana, Nisiros and Milos, in the most active of volcanoes in Greece.
The three main islands form a"ring" around the Caldera, the bay which was created when the central part of ancient Strongyli sank to the seabed. Its dimensions are 8x5 km and its depth is as low as 370 m. The great crater formed by the volcanic eruption of around 1600 BC, adds to its distinct atmosphere: settlements are built on the edge of the crater inner walls and not on the sea level, as in other islands. In addition, Santorini is one of the few places worldwide where architectural complexes of underground rock-hewn houses still survive inside the volcanic soil.
The Caldera and the whole cluster of the Santorini islands have been characterized as an area of outstanding natural beauty.
The name Thera is taken after the legendary settler Theras of Sparta, who settled in the island and founded the homonymous town in Mesa Vouno approximately the 10th century B.C.
The name Santorini was given in 1153 by the Venetians and is referred to Arab geographer Edrisi. It is a pronunciation of both words Santa and Irene (Saint Irene), taken after either from the name of the church in the valley of Therassia, or from the name of the early Christian basilica in Perissa, which is not preserved.
The main island, Thera, has a shape of a half moon and is located in the easternmost position of the cluster. The west side consists of the walls of the Caldera which preserve the picture of its geological history and illustrate the different phases of the volcanic activity.
There are 13 villages in Thera and 3 villages in Therassia.
The capital of the island is Fira. The name derived from corruption of the word Thera, which is the official one.
Please share your opinion of it with other travelers. Write a review!