SANTORINI
VOTHONAS
Vothonas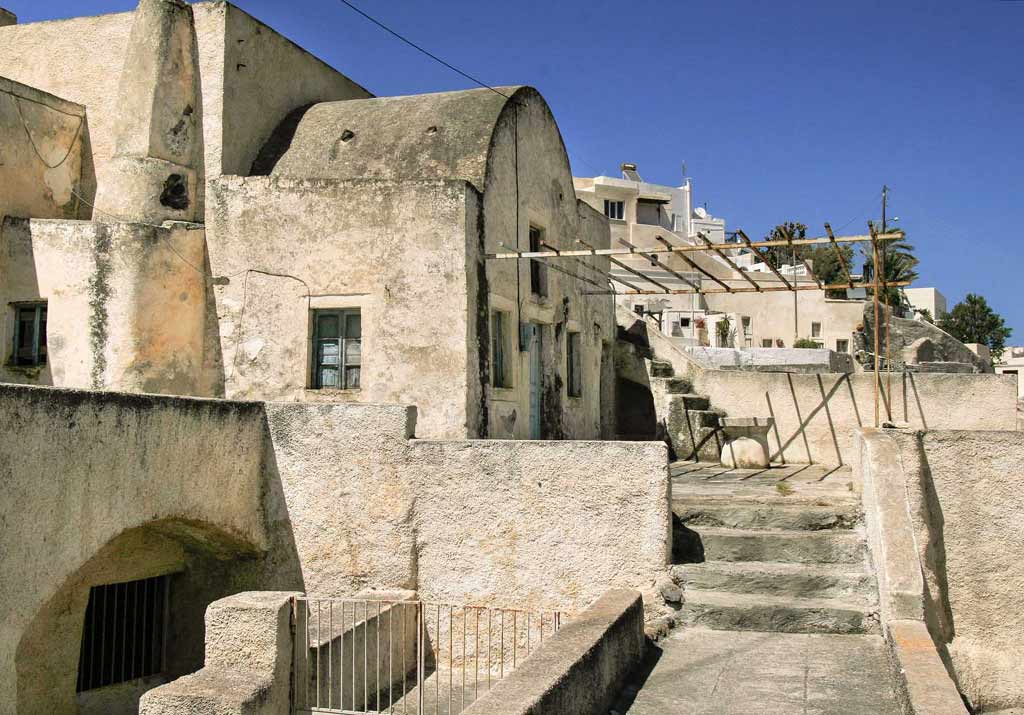 It is a farming village built on both sides of a gorge, which is about 5 km long, where two smaller gorges meet. The village architecture is very interesting, with underground houses hewn into the walls of a gorge. Vothonas is 3.3 km far from Fira, next to Messaria.

As Dr Dora Monioudi Gavala writes the village was built in the center of a gulley, whose length is about 5 klm, also point where two lesser gulleys meet. It belongs to the type of excavated settlements and developed along the branches of those channels spilling over in the area around. It appears in written sources and drawings at about the middle of 18th century and is present in Olivier depiction of Santorini in 1801.

The settlement is a combination of built and open spaces and structures both cut in the ground or built above it. The bottom of the valley was the main circulation axis. From it started narrow rising paths that led to dwellings placed higher. The English nobleman Theodore Bent who visited Santorini in 1883 wrote about Vothonas that "the bed of the torrent forms the street, on either side are lovely gardens, for in this sheltered spot everything flourishes...". At the time Bent visited Santorini Vothonas knew a time of prosperity. During the last decades of the 19th century, this prosperity left its mark on the built-up space giving it impressive facades with pillars, high ceilings and ample space in excavated structures, grandiose entrances.

* From the book "Santorini: Society and Shelter, 15th-20th century", by Dr Dora Monioudi-Gavala/A publication of Lukas and Evangelos Bellonias Foundation.
Please share your opinion of it with other travelers. Write a review!