SANTORINI
PEOPLE
SÁYAPO SANTORINI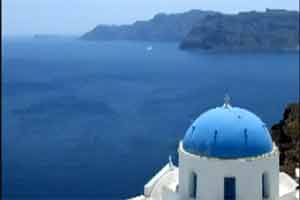 In the year 1986, after an odyssey of more than thirty years, destiny had brought me to the Greek island of Santorini. This volcanic island in the middle of the Aegean Sea has always been surrounded by myths and spiritual energy. It has been said that a big explosion of the volcano on the island approximately 1500 B.C should have caused the drowning of Atlantis. Mankind has been searching for hundreds of years to find this lost island again. Until now they found ruins only. But while archaeologists keep searching, there is another Atlantis, the continent of our soul, that can be found. If only one starts listening again with the heart and looks beyond. When one starts to realize that we are not our feelings nor our thoughts.

For three months I was part of the mountains, the sea and the people of Santorini. It was in Perissa that I met Nikos Lulu and Catharina Drossos friends forever. I am going back there soon and this song is a present for them and the people of the Island I love so dearly s ayapo means I love you. Hope you enjoy it to, Atlantis is calling.
Videos
+ SÁYAPO SANTORINI (I LOVE YOU SANTORINI) FOR MY FRIENDS

Please share your opinion of it with other travelers. Write a review!