SANTORINI
ATLANTIS
Colossal volcanic explosion and Atlantis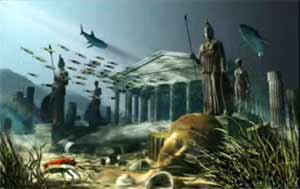 The beautiful Island of Santorini, Greece

This island is all that remains of a colossal volcanic explosion, called the Thera eruption, or the Minoan eruption, which took place some 3,600 years ago, and was the cause of the giant geological caldera that is the lagoon in the center of the island.

The explosion occurred at the height of the Minoan civilization, on the island of Crete, some 110 km to the south of Santorini. This great civilization was possibly wiped out by a tsunami wave caused by the eruption in Santorini. It was one of the most powerful eruptions occurring in the history of civilization, leaving a layer of ash 10-80 m thick 20-30 km in all directions.

There are theories connecting this island explosion to the destruction of Atlantis. Archaeological finds have revealed that the Minoans possessed advanced engineering knowledge enabling the construction of three- and four-story buildings with intricate water piping systems, advanced air-flow management, and earthquake-resistant wood and masonry walls. This level of technology was, it is said, far ahead of that found on mainland Greece at the time. There might be a link between the advanced technologies of Crete to the possible existence of the Atlantis civilization in the nearby area.

Additionally, descriptions by Plato (the person who related the Atlantis legend) described that on Atlantis "one kind of stone was white, another black, and a third red"-stones like this are found in Santorini. Also, Atlantis was described as being circular, surrounded by pits of sea water, each connected to the sea by a deep canal. Scientists attempting to recreate the shape of the island before the Thera eruption have concluded that there was a ring configuration similar to that of Present day Santorini. The center of Santorini may in fact have been the home of the great civilization of Atlantis.