SANTORINI
WINE
Santorini wine dictionary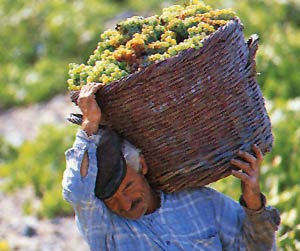 Afla: a small duct at the base of the press from which the must runs into the 'lino' (see below).
Asyrtiko, Athiri, Aidani: the island's three basic white grape varieties, the first being most prominent.
Canava: a family's group of installations housing mainly the wine-making activities. Normally it was dug into the workable Thiran rock, then built up with stone and mud, with at least two wine-presses, for black or white grapes and built-in benches to support barrels (afoures) holding around 1400 litres. A further area, the 'rakidio', was set aside for preparing 'tsikoudia' and distilling, and another space for producing tomato-paste.
Ferendini: the harvest jack-knife.
Kofini: a woven wicker basket with two side-handles used in the collecting and transporting of grapes and tomatoes.
Lino: underground cisterns next to the press where the must is collected and transferred to the barrels.
Manggano: a wooden, vertical, hand-cranked grape-press.
Nihteri: in the past, harvesting and treading was done at night (nichta in Greek ) and the people of Santorini would say "let's go and do the "nihteri", the night's work. The name is now used on bottles of dry, white wines, with the appellation, Santorini, having lain in barrels for at least three months with a minimum alcoholic content of 13.5%.
O.P.A.P.: Greek initials for Appelation of Origin of Superior Quality, and when seen on a label, strictly defines the wine as having been harvested and pressed from grapes of particular variety from within a legally defined grape-producing area.
Traventzo : means of loading barrels onto ships
Vedema: the harvesting and wine-making period, beginning in August and ending around October.
Vinsanto: the traditional and historically-significant name given to the sweet wines from sun-dried grapes with the appellation, Santorini. The grapes producing this wine are the Asyrtiko, Athiri and Aidani varieties from the islands of Thira and Thirasia. (Vin Santo Erini)
Please share your opinion of it with other travelers. Write a review!