SANTORINI
WINE
Assyrtiko again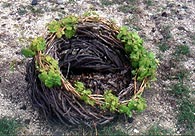 Assyrtiko is probably Greece's finest multi-purpose white grape variety. It was first cultivated on the island of Santorini, where it has developed a unique character. It has the ability to preserve its acidity while keeping a high alcoholic content. Assyrtiko gives a bone-dry wine that has citrus aromas mixed with the characteristic earthy flavors that the volcanic soil of Santorini provides. It ends with a pleasant mineral aftertaste. In the last 25 years Assyrtiko was replanted in an area near Thessaloniki and from there many other winemaking regions of Greece have began to plant the grape. Away from Santorini, assyrtiko expresses a milder and more fruity character with less earth and mineral hints. It is resistant to humid conditions, most common vine diseases and is easily adapted to the different microclimates across the land. Assyrtiko, though, can easily become oxidized due to the high phenol concentration of the grape skins.

In Santorini, Assytiko is the predominant variety that qualifies for the production of the wines with the Appellation of Origin of Superior Quality: Santorini. It can also make excellent barrel fermented dry white wines. Assyrtiko can also be used together with the aromatic aidani grape for the production of the unique, naturally sweet wines called VINSANTO (wine from SANTOrini). Vinsanto is made from the traditional method of letting the grapes dry under the sun for 10 days to concentrate their juice. These sundried grapes are referred to locally as "Liasta". The wine is kept in barrels for many years and develops a wonderful color and bouquet that carries you away with hints of chocolate, coffee, butter, honey, and flowers.
Please share your opinion of it with other travelers. Write a review!