SANTORINI
ARCHAEOLOGICAL SITE OF AKROTIRI
SIGMA FIREBARR PROTECTS THE ARCHAEOLOGICAL SITE AT AKROTIRI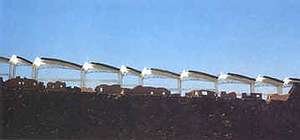 Akrotiri of Thera is one of the most important prehistoric settlements of the Aegean. The first habitation at the site dates from the Late Neolithic times (at least the 4th millennium B.C.). During the Early Bronze Age (3rd millennium B.C.), a sizeable settlement was founded and in the Middle and early Late Bronze Age (ca. 20th-17th centuries B.C.) it was extended and gradually developed into one of the main urban centres and ports of the Aegean. The large extent of the settlement (ca. 20 hectares), the elaborate drainage system, the sophisticated multi-storeyed buildings with the magnificent wall paintings, furniture and vessels, show its great development and prosperity.

The town's life came to an abrupt end in the last quarter of the 17th century B.C. when the inhabitants were obliged to abandon it as a result of severe earthquakes. The eruption followed. The volcanic materials covered the entire island and the town itself. These materials, however, have protected up to date the buildings and their contents, just like in Pompeii.

Since the second half of the 19th century, systematic excavations were carried out. No interventions are made on the uncovered monuments unless it is necessary for their consolidation or for the preservation of any kind of evidence.

Of course this archaeological site is of major importance to Greece and an immensely popular tourists attraction. As temperatures can become quite hot there during the summer, the site and the visitors needed protection against the sunlight, but also the findings will need to be protected from the mixture of the rain and the volcano dust. Therefore a structure is designed to cover the site.

The roof, covering all the archaeological findings, consists of stainless steel plates that are laying on galvanized pipes with a diameter varying from 33 to 133 mm. On these plates there will be an isolation membrane on which the walkway will be made. Steel pipes support the whole roof. Those pipes have a diameter varying from 457 – 500 mm, with heights varying from 4-5 meters. At the end of the project the visitors will walk "down hill" to visit the site (see the artist impression).

In addition the archaeologists have discovered two other cities under today s findings, these are much older than the one they are trying to protect today..

The construction is built by a joint venture of Joannou & Paraskevaides (Hellas) S.A - J/V: Impregilo S.p.a Avax S.A Gnomon S.A. One of the requirements for the coating of this structure was a fire protection of 30 minutes. Sigma Coatings fire protection range Sigma Firebarr can easily fulfil this requirement.

The expectation is that the project will be completed by the end of April 2004.
Please share your opinion of it with other travelers. Write a review!