SANTORINI
VOLCANO
Santorini Mega Tsunami - Evidence from Kos?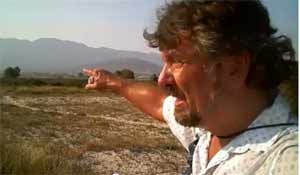 In the field with Simon Haslett, Professor of Physical Geography at the University of Wales, Newport, and his initial examination of field evidence from the Greek island of Kos regarding the controversial theory that a mega tsunami was generated by the catastrophic eruption of the volcanic island of Santorini in the Aegean Sea, in the eastern Mediterranean, during the Late Bronze Age around 3500 years ago.

It is known that the Minoan civilization of Crete collapsed around this time, which is usually attributed to the Santorini eruption and a resulting tsunami, but is there evidence that a mega tsunami actually occurred? Further Reading: S. K. Haslett, 2008. Coastal Systems (2nd Edition). Routledge, London (see section 2.2.2); D. Dominey-Howes, 2004. A re-analysis of the Late Bronze Age eruption and tsunami of Santorini, Greece, and the implications for the volcano-tsunami hazard. Journal of Volcanology and Geothermal Research, Vol. 130, pp. 107-132. Location: coast and inland between Marmari and Tigaki, Kos, Greece.
Videos
+ Santorini Mega Tsunami

Please share your opinion of it with other travelers. Write a review!